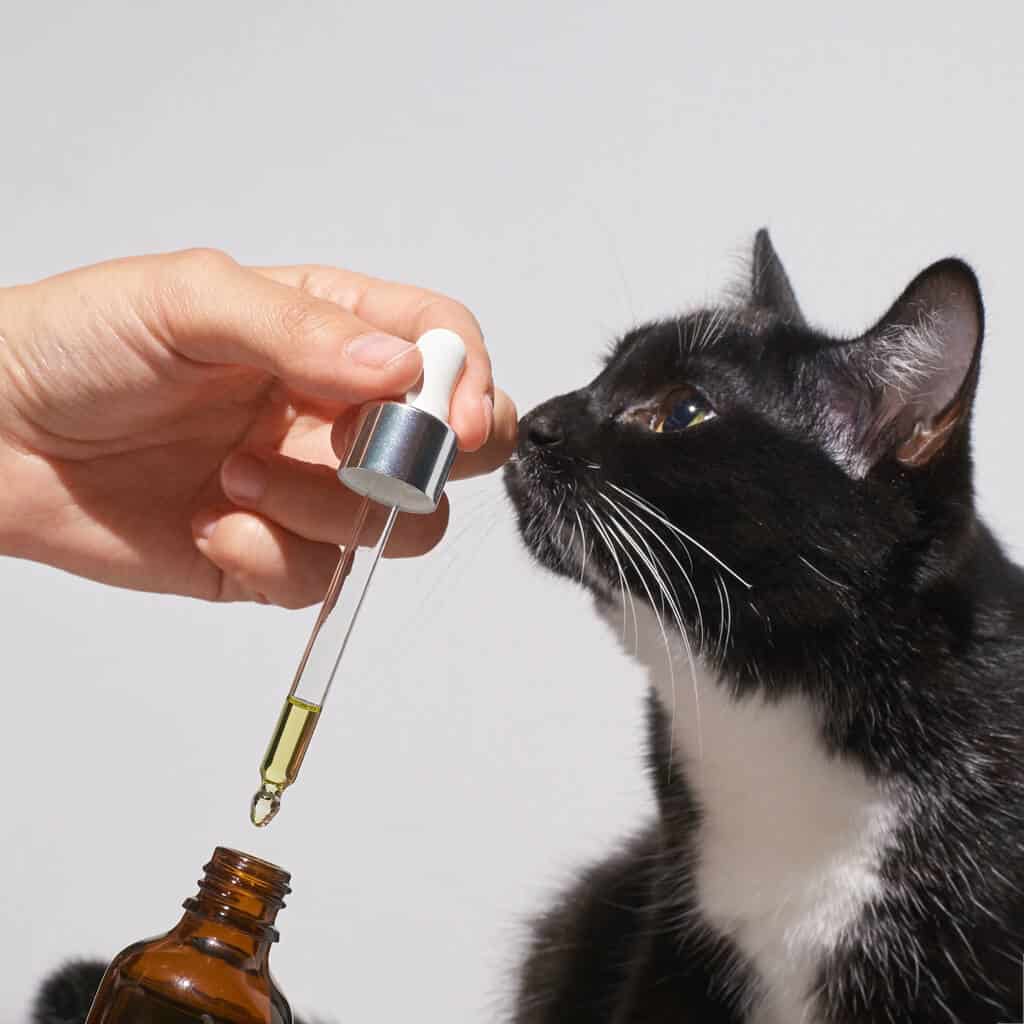 All cat owners want the best for their feline family members. Keeping them happy and healthy ensures they will thrive in their environment. The newest phenomenon to hit the pet market is CBD oil, a natural solution that can help improve quality of life for pets struggling with pain, anxiety or other ailments. But is it safe? Read on to learn about CBD oil for cats, including ingredients, benefits, dosages and more.
What Is CBD Oil?
According to PetMD, Cannabidiol (CBD) is an active ingredient in the cannabis plant. You may be wondering, if CBD is from a cannabis plant, will my cat be high? The answer is no. The most well-known ingredient in a cannabis plant is tetrahydrocannabinol (THC). THC is the chemical that creates a "high" for users. Unlike THC, CBD does not have a psychoactive effect. If a cannabis product contains less than 0.3% THC, it is classified as a hemp plant. CBD oils are derived from hemp and provide therapeutic relief with a level of mild relaxation without any sort of high. Giving a cat CBD oil isn't a permanent cure for all ailments, but it can offer temporary relief.
How Does CBD Oil Affect Cats?
It is important to note that all cats are different. This means that just because the neighbor's cat had a good experience with CBD, your cat may not. CBD can reduce and regulate the production of cortisol, a stress hormone that is responsible for settling anxiety. Cats experience anxiety just like humans do. Even if a cat is in a happy home, there can be triggers or situational changes that create a change in behavior. Past trauma, loud noises or life changes such as a new baby could all result in an overload of chronic anxiety. Understanding cat body language can clarify what your cat may be feeling in a moment and if CBD may help.
Cats have an endocannabinoid system (ECS), which establishes balance and regulation within the body. The ECS sends out endocannabinoids in the bloodstream with messages on how to function. When these messages are sent effectively, your cat is healthy. If there is any issue with the ECS system, your cat may be in distress as this is the control center for pain regulation, temperature regulation, appetite and more. Interestingly, CBD for cats can mimic the messages of the endocannabinoid, which helps bring the body back to a state of balance.
Is CBD Safe for Cats?
All signs point to "yes." While there are no scientific studies published, pet owners have shared their anecdotal evidence across the web. In a statement for PetMD, Holistic Veterinarian Dr. Gary Richter states that CBD is generally safe for cats. However, there can be some effects to giving your cat CBD oil, including gastrointestinal upset and some sedation (both of which can be fixed by stopping usage). Richter claims that the bigger issue is making sure your cat has the correct dosage and to make sure it is a reputable brand. The FDA does not regulate the cat CBD products that are available on the market, so be sure to check with your veterinarian beforehand.
Benefits of CBD for Cats
There are several ailments that CBD for cats can provide relief for because of its anti-inflammatory properties. CBD may help with:
Easing chronic pain and inflammation related to joint issues such as arthritis
Enhancing quality of life for cats living with diseases, such as cancer
Improving the condition of your cat's coat, making it shiny and stronger
Soothing allergic reactions or itchy dry skin
Calming anxious or stressed cats, whether situational or chronic
Reducing seizures in cats with epilepsy
Increasing appetite
Managing IBD symptoms by reducing swelling and discomfort
Promoting overall wellness and health, possibly reducing the risk of disease
Potential Side Effects of CBD Oil in Cats
There is always a risk of side effects when it comes to implementing changes in body function. If CBD side effects are present, it usually represents an incorrect dosage. Be sure to stop dosages and contact your vet immediately if your cat demonstrates any of the side effects below.
Excessive Drowsiness:
This may be tricky to spot as we know our feline friends love their naps. If you notice your pet is struggling to stay awake or sleeping for prolonged periods, it may be a sign of too much CBD. Cat CBD is meant to cause relaxation but if it induces too much, pets may become lethargic. Try to keep a baseline of your cat's sleep schedule before trying CBD.
Nausea, Vomiting or Diarrhea:
If you start to notice any gastrointestinal issues, this may be a sign of a bad reaction to CBD. Digestive issues and changes in appetite can be the first sign of an off-balance body. Keep in mind that these issues may not be all CBD related and could be caused by a cat's recent diet habits.
Dry Mouth:
CBD can decrease saliva production, causing your cat to have chronic dry mouth. You may become aware of this side effect if you notice their breath starts to smell bad, or they drink excessively. Mouth dryness long-term can be the source of a lot of dental issues for kitties.
CBD Dosage for Cats
CBD dosage will differ for each cat and their situation. It is best to consult your veterinarian to ensure that you start the right base dosage and follow reputable dosing guidelines. Never rush to add CBD to your cat's diet; it is best to have a gradual introduction to track the appearance of side effects.
The brand Austin and Kat focuses on natural wellness for pets and creates CBD oils and treats. Their website reads,
"we recommend giving a dose of 2–4 mg of CBD per 10 pounds of cat to start. […] The more difficult the condition, the more CBD you'll need. But start small and go up until your furry feline is feeling happier and calmer."
The website also notes that it is important to remember it takes about 15–45 minutes for the effects to take place in your pet's system. Depending on the cat, CBD effects can last for 4–6 hours!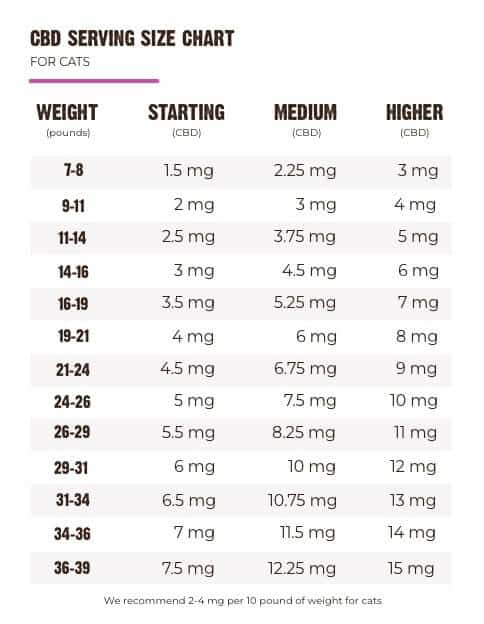 Sourced from Austin and Kat.
**Always make sure to consult your holistic practitioner or vet
How to Find Safe CBD Oil for Your Cat
Finding safe CBD oil for cats can be tricky in a consumer market, especially online. According to Dr. Gary Richter, "Pet owners looking to give their animals CBD should do their due diligence before purchasing anything online. The marketplace is very much a 'buyer beware' environment, and people should be sure the product they are buying has been laboratory tested for both content, as well as contaminants."
Products that are legitimate should carry the National Animal Supplements Council (NASC) Quality Seal or the Certified Seal of the U.S Hemp Authority. These quality seals indicate that the product has gone through a third-party audit and are compliant with quality requirements. Another key requirement is making sure that the CBD oil is specifically designed for cats and does not contain any THC at all. Veterinarians may have suggestions for safe products. Following these steps for your cat's safety will make sure the CBD is beneficial and doesn't inflict serious harm.
Best CBD Oil for Cats : Top Products on The Market 
Looking for some safe brands? Dr. Wendy King of Spears Creek Veterinary Clinic states, "When picking CBD, make sure you are looking at a trusted company that provides unbiased third-party testing results for every batch of their product." Here are a few reputable options to consider, all of which have third-party results on their website. Please note, we are offering this information based on research and are not endorsing or recommending any products or brands. Before picking any new product, you should consult with your veterinarian and conduct your own research.
Austin and Kat This brand boasts a happiness guarantee with all natural ingredients. They are highly knowledgeable and offer products for pets of all shapes and sizes. Kat is a pet-parent herself and started the business in her home. Most importantly, their website is transparent. Lab tests are available for download, and they offer a link to the Leafreport that states how their products are represented accurately compared to other brands. They offer numerous styles of CBD products (oils, meal toppers and treats), catering to all pet needs and ailments. (NASC Certified)
Paw CBD has a line of CBD oils that are specifically made for cats. This company guarantees their product is THC-free and offers transparency in their testing (lab reports on site). The only drawback to these products is that Paw CBD does not have great dosing instructions. As cats are much smaller than dogs, it is important to have clear instructions for pet owners. Paw CBD offers flavored soft chews, oil tinctures and kidney support chews. The kidney chews contain various roots that boost liver protection and kidney function and are recommended for older cats. (NASC Certified)
Honest Paws is another transparent company that makes their products in the USA. They offer a 30-day money-back guarantee and have various products geared towards specific health concerns (product lines include wellness, calm and relief). Their customer reviews from pet parents are excellent. Cat products include oils, balms and soft chews. Their hemp CBD recipe targets dry skin or itchy rashes by simply rubbing it on your cat's paws. (NASC Certified)
In addition to growing their hemp products from American farmers, Super Snouts products are GMO, pesticide and solvent-free. The website provides in-depth information about CBD for pets, test results for their products, frequently asked questions and more. A portion of Super Snout's sales is donated to helping homeless animals in need. Products for pets include tinctures, gel caps, chews, CDB-infused peanut butter (for dogs) and balms. For those who are interested, Super Snout sells gel caps and balms for humans. (NASC Certified)
FAQs About CBD Oil & Cats
Q: Is CBD oil legal for cats?
A: Yes, CBD oil is federally legal in the USA. Although, some states have their own individual laws which may interfere with your ability to shop for CBD for pets. These states include AL, GA, IN, IA, KS, KY, NC, MS, SC, TN, TX, VA, WI, WY.
Q: Can you give your cat CBD with other medications?
A: It is important to check with your veterinarian if your cat is already taking prescription medications. CBD may add an additional boost to your cat's overall health, but it depends on their condition and type of medication they take.
Q: What's the best way to give a cat CBD?
A: Most feline CBD brands make it easy with various products and flavors to choose from. If you purchase a cat CBD treat, your cat may think it's a regular treat. The most common product on the market is CBD oil that comes with a dropper. Most CBD users drop oil into their cat's food bowl and mix it in. You could also rub it directly on their gums, but cats may not be too keen on that approach! A less challenging option may be rubbing it into their ears or on their paw pads.
Q: What is the difference between CBD oil and hemp oil?
A: Although it may seem as though these oils are the same, there are significant differences in their effects and the way they are produced. Hemp oil is made by pressing hemp seeds. Hemp oil has no THC and little CBD because the oil stems from the seeds and not the plant. Hemp oil provides some natural wellness support (fatty acids, antioxidants, and vitamins) but not as many benefits as CBD.