General Nutrition
Q.
What does "meal free" mean?
Meal free means that RAWZ products do not contain any type of rendered meals at all (No Chicken meal, No Turkey meal, No Lamb meal, and No Fish meals).  RAWZ only uses dehydrated chicken, real poultry and/or wild caught fish as protein sources.
Q.
Why are lower carbohydrates preferred?
Carbohydrates are not part of the natural diet for dogs and cats, so it should come as no surprise that carbohydrates are not nutritionally essential (in any amount) for them. 
In fact, excessive carbohydrates may contribute to unhealthy weight gain in some pets.
Q.
How is your product able to provide for all life stages and all breeds?
In order for a food to be classified "all life stages", it must pass a certain protocol used by the Association of American Feed Control Officials (AFFCO) to determine if a food has the nutrient content necessary to fully support the four stages of life; the gestation, lactation, growth and maintenance stages.  A food with this classification may be used for a pet in any of these life stages so long as the correct amount is fed.   We are pleased to say that RAWZ meets these guidelines.  Please see our bag for specific feeding instructions.
Q.
Are the high protein levels in RAWZ healthy for pets?
YES.
The notion that high protein diets cause kidney failure in dogs has been mostly discounted as marketing hype and a myth.   The National Research Council has found that no upper level is known for dogs and cats and countless studies published over the last decade have roundly debunked the high protein myth (often fueled by multinational and marketing companies that still produce or sell low-protein, grain-based foods).
There is simply no data suggesting high protein diets cause any short or long-term harm to pets. 
Q.
What is the optimal fat level?
A healthy diet includes an optimum fat level. Fat is a good source of energy and allows the body to utilize fat-soluble vitamins. Animals need some fat in their diets in order to have a shiny coat, healthy skin and to avoid other potential health problems. With over 60% of the dogs in the US being obese, optimum fat levels are needed - not too high, not too low. What is the right level of fat for your pet? The answer is, "It depends." Every animal is different, and fat level is not the only consideration - a healthy diet requires a thoughtful combination of minimally processed nutrients including protein, fat, fiber, and carbohydrates. The fats in RAWZ are naturally occurring in the poultry and fish in our recipes; they are not added rendered (processed) fats.
Q.
How do I transition my pet over from his or her current food to RAWZ?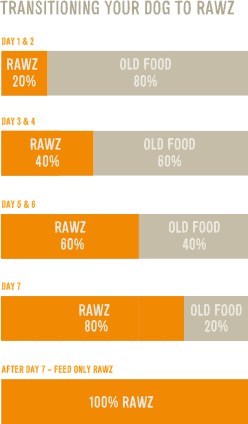 To transition, gradually mix in the new food over a 5-7 day period, increasing the amount of RAWZ® each day, so that you are feeding 100% RAWZ® by day 7.
Transition your dog gently! Please follow these general guidelines and your own common sense. When transitioning to a new food, it is important to pay attention to your pet's stool. A healthy diet and good digestion should result in a stool that is formed but soft – not liquid and not rock hard.
Ingredients
Q.
Why do you use both dehydrated chicken and dehydrated deboned chicken?
We use this combination in order to achieve the correct levels of calcium and phosphorous in our recipes.  These essential minerals are naturally found in bone, and must be in proper proportion in order to be of maximum benefit in the diet.
Q.
Why no fruits, vegetables, or additives?
The benefit of these ingredients is minimal when added to a formula in the micro levels of many foods on the market; some of these micro levels can be almost completely cooked off in the manufacturing process.  We believe in adding fruits and veggies directly to your pet's food if needed.  Specific to prebiotic and probiotic, if your vet recommends adding these microorganisms, they should be added through supplementation at the correct concentration.
Q.
Is your food GMO free?
RAWZ does not claim to be GMO-Free.   Non-GMO claims are likely to be misleading.  Without the USDA Organic label, you cannot be sure that every ingredient is not only itself GMO free, but also that any animal products included are from animals that were fed exclusively GMO free grains.   We cannot be sure in all instances that this will be the case, so we do not make the claim.
Q.
Why do you use tapioca starch?
Tapioca is a good choice for many reasons: unlike grains and potatoes, tapioca has a relatively low glycemic index, and it is gluten-free.  Tapioca is a good carbohydrate source for many allergy sufferers as well, because tapioca is virtually devoid of protein and is less likely to cause immune-mediated reactions like those observed in animals fed grain-based diets.
Q.
Why do you use pea starch?
Pea starch is an excellent source of starch, because it is highly digestible for both dogs and cats.  Peas have a relatively high level of insoluble fiber, which can help provide a feeling of fullness and aid passage of food through the digestive tract. 
Q.
Why are there no potatoes in RAWZ?
Our preference is for pea starch and tapioca over potatoes.  These starches present a lower risk of allergic reactions and have lower carbohydrate content and a lower glycemic index.  Foods with a high glycemic index like potatoes may cause blood sugar levels to spike, which can present a significant health problem for some dogs.
Q.
Why is there no added rendered chicken fat?
RAWZ® has 12% fat naturally present, which we feel is a thoughtful level of fat for today's moderately active pet.  Most rendered fats are added as an economical way to enhance palatability; RAWZ®  is highly palatable without the excess added fats.  Many of our pets are overweight; we feel that the lower fat content and having only naturally occurring fats is a healthier option.
Q.
What is dehydrated chicken?
Our dehydrated chicken starts with fresh USDA & FSIS inspected chicken.  The chicken is gently cooked at a low temperature to remove most of the moisture; the resulting dehydrated chicken is a very high quality concentrated protein source.
Q.
What is dehydrated deboned chicken?
Dehydrated deboned chicken is simply real deboned chicken with the water removed.  As such it is a highly concentrated (3x the amount of protein on a dry matter basis), highly digestible source of protein and essential amino acids that also provide essential fatty acids, vitamins and certain minerals for muscle development, organ function, and energy.
Q.
Why include a combination of dehydrated chicken and fresh poultry in RAWZ?
The high concentration of high quality protein in dehydrated chicken combined with the benefits of fresh poultry allow for the highest level of fresh poultry in a higher-protein, low carb dry food without the use of rendered meals.
Q.
Why is there no added glucosamine and chondroitin sulfate?
Our products contain naturally occurring glucosamine and chondroitin sulfate derived from the poultry and fish in our products and is included on our guaranteed analysis.  We believe if your pet requires additional glucosamine or chondroitin sulfate, a concentrated supplement should be added to their diet.
Q.
Why do you use natural tocopherols?
Tocopherols are naturally found in vegetable oils, nuts, fish and leafy green vegetables.  People and animals are unable to synthesize Vitamin E, so it needs to be included in the diet.  Natural Mixed Tocopherols are a good source of Vitamin E, and they are also useful in preserving the taste and preventing the oxidation of many foods that contain oils and fats. 
Q.
What's in the natural flavor?
Our Natural Flavors are non-synthetic. They are comprised of roasted meats or vegetables with all water, bone & fat residues removed. There are no "surprise" proteins in the natural flavor – i.e. Chicken flavor in the Duck formula, etc. We use single dehydrated proteins that mirror the recipe itself, for example turkey uses dehydrated turkey.
Finding RAWZ
Q.
Where is RAWZ sold?
RAWZ will initially be available ONLY ON THE WEST AND EAST COASTS.
To find an authorized Independent Retailer near you, check our Where to Buy page on a weekly basis beginning May 2015. We will update this list every week; it will be the central place to find out where RAWZ is available! 
The RAWZ Philosophy
Q.
Why not just feed a raw diet?
A: RAWZ® believes a raw diet is the best for most dogs and cats, however
some pets can't tolerate a 100% raw diet.
some people have concerns regarding safe handling and storage of raw foods
it is expensive to feed a completely raw diet
the time requirement for feeding raw is too high for some pet parents
not everyone has knowledge sufficient to provide a balanced raw diet
Q.
What makes RAWZ so good?
RAWZ IS THE NEXT BEST THING TO FEEDING RAW.®.
-Higher Protein (40%)
-Low carbs (22.5%)
-Optimum fat (12%)
Q.
What does RAWZ use to naturally preserve their food?
Since RAWZ is a natural product, we use only natural tocopherols (a natural source of vitamin E) to preserve our food.
General Questions
Q.
Why no rendered meals?
RAWZ uses only dehydrated chicken as our natural concentrated protein source. RAWZ dehydrated chicken comes from U.S.D.A. and FSIS approved chicken, has a higher P.E.R Value ( protein efficiency ratio) than rendered meals and is gently cooked, which helps retain protein and amino acids, keeping the protein in a more natural state.
Q.
How does RAWZ perform from a palatability standpoint?
RAWZ is extremely palatable because of the high meat content of our diets.  We don't need to add any fats to our cooking process, as all of the fat in our recipes are naturally derived from the meat we use.  We have conducted palatability tests vs. the leading grain-free competitors and we are pleased to announce that RAWZ has come out on top in every test!
Q.
Why do pet food companies use rendered meals?
We believe meals such as chicken meal, turkey meal, or lamb meal can provide a very good economical source of concentrated rendered protein. 
Q.
What does PER value mean?
PER stands for Protein Efficiency Ratio.  This is a traditional measure of the value of various proteins - some proteins are more accessible and useful to the body than others.  The higher the PER value of the protein, the greater benefit to the animal.
Q.
What's the Digestibility of RAWZ?
The digestibility of RAWZ averages 87.9%. Digestibility is the percentage of a foodstuff taken into the digestive tract that is absorbed into the body.  This high digestibility rating means that the nutrients in RAWZ are directly benefiting your pet.
Q.
Why are no supplements (beyond vitamins and minerals) added to your food?
If a pet requires specific supplementation for a dietary or medical need, we feel you will get the best results by adding the right supplement in the correct amount to your pet's diet.  If you are not sure what supplements your pet could benefit from, we recommend that you ask the pet food expert at your pet specialty store or your veterinarian.
Q.
Where are your ingredients sourced?
Our ingredients are sourced from the USA and Canada with some of our VITAMINS coming from Europe (France, Germany, and Switzerland), tapioca starch sourced from Thailand, and Taurine from Japan.
Q.
Why aren't carbohydrates listed on your guaranteed analysis?
AAFCO has decided not to allow carbohydrate content to be listed in the guaranteed analysis.  Carbohydrate content can be closely estimated by adding protein, fat, moisture, fiber and ash, and then subtracting this sum from a total of 100%. This will give you an approximate idea of the total amount of carbohydrates present in the food.
Carbohydrates comprise over 50% of some conventional pet foods and 30-50% of some Grain-Free pet foods.
Q.
Is RAWZ ok to feed senior dogs?
Yes.  RAWZ® is an excellent diet for ALL LIFE STAGES AND ALL BREEDS, including older pets. 
Q.
What are optimum sodium levels?
Rawz uses optimum micro trace amounts to supply necessary nutrients. The trace amounts are 00.2940% for sea salt, 00.1470% for choline chloride, and 00.1470% potassium chloride.
Q.
Why is Taurine in your dog food? Isn't it just for cats?
Recent studies have shown that extra Taurine is imperative for cardiovascular health in dogs, especially in Large and Giant Breeds.   Dilated Cardiomyopathy is one of the most common acquired cardiovascular diseases in dogs.  In cats, a diet deficient in taurine clearly results in DCM, but in dogs, the need for dietary taurine has not been generally recognized because dogs are known to be able to synthesize taurine from the sulfur amino acids cysteine and methionine.