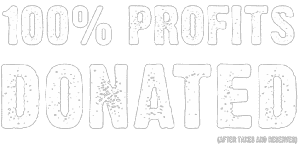 JIMMY'S FIRST WALK WITH BOOMER
AFTER HIS ACCIDENT – SPRING 2007
Our personal commitment to these three causes is based on our family's experience. Both of our sons, Andy and Jimmy, suffered life-altering injuries due to unforeseen accidents. During their recoveries, we were continually moved by the deep, spiritual connection they both developed with our yellow lab, Boomer. We were able to witness firsthand this profound connection between humans and animals – this was the inspiration behind The RAWZ Fund.
Our focus continues to revolve around the recovery and success of our children, as it would for any parent. We wanted to share this ability with all individuals and families who are affected by injury and/or disability. We do this through The RAWZ Fund by donating 100% of RAWZ Natural Pet Food's profits to organizations that are dedicated to improving the lives of those living with disability – whether it be through the countless benefits of life with a service dog, finding creative ways of making athletics and recreation possible again, physical rehabilitation, emotional support and therapy for both disabled individuals and their families – any and all means of providing the quality of life we all deserve. We are 100% committed to supporting these organizations for as long as they continue to provide services and support to those in need.
Our primary commitment has always been to provide your pet with natural, nutritious food options. Since 1961, the Scott Family has been dedicated to pets' overall health and well-being. RAWZ has become the third generation in pet nutrition for the Scott Family. The same commitment to quality nutrition remains just as strong, but with an additional commitment to give back and support others in times of need. 
Take care,

Improving the Lives of Brain Injury Survivorswww.krempelscenter.org