Very Important Pet Parents (we mean you) ONLY!
Save $5 when you try six (6) cans of RAWZ Natural Pet Food cans for dog or cat OR when you try a 3.5lb bag of RAWZ original Meal Free Dry Food for dog or cat.
Here are some of the reasons we know you will love RAWZ:
Meat first and meat focused to provide your cat or dog with the nutrients they need without fillers or artificial ingredients

Minimally processed to increase digestibility (87.9% for our meal free dry food)

Our cans are gum free, using only natural binders like fenugreek seeds or tapioca starch

Certified low glycemic for optimal blood glucose levels and health

100% profits donated – every purchase helps those living with brain injury or spinal cord injury get the services (and service dogs) they need

100% satisfaction guarantee – if you or your pet do not love it, return it to where you bought it for a full refund
Get the Coupon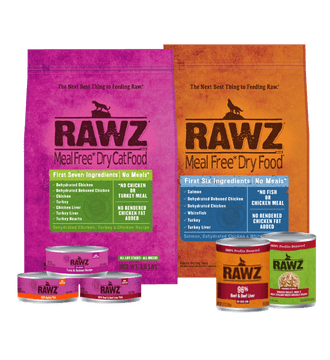 RAWZ Gives Back
Established in 2015 by The Scott Family, The RAWZ Fund is committed to donating 100% of profits (less taxes and reserves) to organizations that provide service dogs, spinal cord and brain injury services.