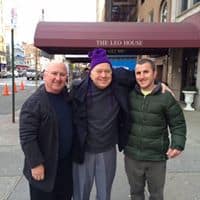 As I'm sure it is for many of you out there, Father's Day is a really special day for me. Of course, you may be sarcastically thinking, "Of course he's gonna say that, he works for his dad!" But I assure you, if you know my father you already know that it won't get me any extra points!
In all seriousness though, I was blessed to have my grandfather, Jim Scott Sr., in my life for almost 35 years. In that time our relationship saw "Grampy" acting as a golf partner, boss, teacher, support, and perhaps most importantly, a true friend. I was recently reminiscing with my 5th grade teacher who remembered him as always being there. Whether it was grandparents' day, a sports game, or awards ceremony (I'm not joking, I think I got one), Grampy seemed to be ever present. Of course, except for when he snuck out for a quick cigar...
While I easily recognize the good fortune of having my grandfather in my life for so long, I also have to acknowledge the unbelievable amount of love and support given me by my dad, Jim Scott Jr. As one can imagine, working in a growing family pet food business requires a lot of work, and I remember my dad as always working. Whether he was on the road generating sales, in the office crazy hours, or manning the booth at trade shows while the family went on "vacation", he seemed to always be on the job.
The lighter side
Despite his commitment to the company, the one thing I fondly remember was him always being there for our activities. A couple of stories I remember fondly, although Dad may not, come to mind. My dad has always been a car nut. Unfortunately, cars are very expensive and not always a congruent passion for a guy working in a growing, but small, family business. I don't know how he did it, but my dad seemed to always find a deal (or so he told my mom) on a car that was "like new".  I'll never forget how excited he was when he got what may have been his first NEW car. My good friends, the Reardon's, had driven me to hockey practice one night and my dad was going to meet us there and bring me home. I remembered him saying he'd have his new car that night. 
Practice that night was in Tyngsborough, MA at Skate 3. Despite playing for a youth hockey team out of Salem, NH, because of the scarcity of available ice-time nearby, Skate 3 was our home rink. As any hockey parent knows, the ice-times aren't ideal which only made the 45 minute ride to Skate 3 more tedious. Anyways, I remember seeing my dad up in the stands as practice finished up. I hurriedly changed in excitement to see his new vehicle. As we walked out into the full parking lot, I saw he was parked all the way in the dirt overflow area. It was dark out but noticing the puddles around, my dad asked me to "make sure you knock your shoes off before you hop in." After the long ride spent discussing hockey and how nice it was to have a brand new car, we got home. As we pulled into the garage, the car's interior became illuminated, with the two massive mud-prints from my feet on full display...
I can only imagine that he wanted to blow a gasket on me, but I distinctly remember how shocked I was by his calmness. I thought I had knocked the dirt off, which I obviously hadn't, and felt awful as I apologized. I immediately felt better as he explained it was just a car, even though I knew he was rightfully upset, and said he wasn't mad and that he could clean it in the morning.
While I've made my fair share of mistakes growing up, I've yet to exhaust Big Jim's patience (knock on wood). Another vehicle related mishap, that in my defense I have no recollection of, was the time I meticulously washed my father's car. Unfortunately, rather than the appreciative joy I expected after showing my work upon completion, my dad's face looked quite distraught. Keep in mind that I wasn't more than 7 or so at the time when I tell you my cleaning tools had been warm water and a Brillo Pad! Only now can I imagine the restraint it took for him to mutter "good job, thank you" as he surveyed the scratched car.
Unconditional love and support
While those two examples don't involve anything too serious or health related, I have plenty of such examples in my memory. One stands out: After my car crash and TBI in 2006, as one can imagine, I experienced quite a lot of emotional difficulty. Despite the incredible support from family and friends, building a life post TBI is a challenge. I remember one time that I decided to give up and that I couldn't keep moving forward and had isolated myself in my apt for some time. Worried that no one had heard from me, my dad stopped by and found me lying in bed visibly upset. To put this interaction in context, Dad has always wanted us to know how fortunate we are and remain grateful, staying away from self-pity. I may have misinterpreted this encouragement as a lack of permission to allow myself self-compassion. I will never forget him asking me "what's going on?", and after I said that I was having a tough time and really struggling, his understanding. He told me that it was ok to be sad and frustrated, but that no matter what I was loved and to keep doing the best I could. Learning that it was ok to be discouraged and grieve my losses wasn't incompatible with progress in recovery or meant that I'd given up,  has been a process that I think really began that day. To me there's nothing I'm more grateful for than this compassionate support.    
Happy Father's Day 
Whether it's for his constant support or unwavering love, I couldn't possibly adequately convey my gratitude here to my father or my Grandfather's spirit here. On behalf of the team here at RAWZ we want to say thank you to all the Dads out there or already passed: Happy Father's Day!