Awards & Recognitions
At RAWZ, our primary goal is to provide your pet with a variety of natural, quality nutritional options WHEN ONLY THE BEST WILL DO. We are building a reputation based on the quality of our products and it has earned us some impressive industry awards. We care about all pets and the meaningful impact they have on our lives. We are proud to be recognized for our efforts.
5 Star Rating!
Dog Food Advisor
Dog Food Advisor is one of the Internet's most visited dog nutrition websites. It is a public service website designed to help consumers make a more informed decision when selecting a dog food. The Dog Food Advisor's unbiased dog food reviews and ratings are searchable by brand or star rating. We are proud to announce that RAWZ received the Advisor's top tier rating of 5 stars!
Certified Low Glycemic Canine Food
Glycemic Research Institute
Low glycemic foods can be of great benefit to overweight, diabetic or pre-diabetic pets. The Glycemic Research Institute® is a nationally accredited testing & certification organization approved by the United States government. This certification program and certification mark are registered and licensed by the United States, Canada, and the United Kingdom governments, and accepted worldwide per World Health Organization (WHO) guidelines.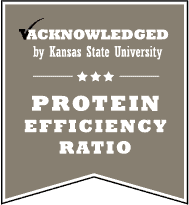 Kansas State University
Protein Efficiency Ratio (PER) measures the nutritive value of protein sources. The higher the PER value of a protein, the more beneficial it is to the animal. Dehydrated Chicken achieved a PER value of 98%; Rendered Chicken Meal came in at only 58%.
At RAWZ, we believe that meals can provide a very good economical source of concentrated protein, but we feel that dehydrated chicken is even better. RAWZ is made with dehydrated chicken instead of rendered meals, providing superior nutrition from an identified, high-quality source.